Black sexy Shemale in High Heels shows her fine Ass . HornyBlackTgirls bring you real life Tgirls in their most sexiest form. Along with some behind the scenes action and a look into the reality of what being a Black Tgirl is. We specialize in only the most unique, sexy, and beautiful girls around, defnitely not your average pick of the litter. So expect noting less. Enjoy big asses and huge cocks on some of the most beautiful black transexuals in the world. These girls re always horny and ready to please. Whats Your Fantasy?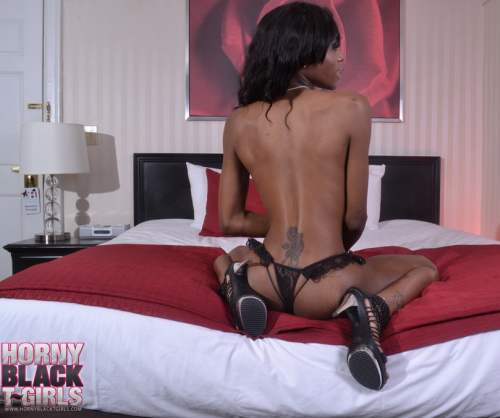 Since February is Black History Month, I thought it would be good to include a Black Shemale in Maid Outfit  here on Black Sexy Shemales even though, as I've noted previously, it's not easy to find Black Shemales who wear stockings and garters! I'm not sure why this is… anybody have any ideas?
Anyway, I did manage to track down these pictures of Shemale Superstar Sexxxy Jade who definitely lives up to her namesake in this fishnet French Maid's outfit. I think French Maid outfit, properly done, is one of the sexiest costumes or uniforms a girl can wear and although this one is lacking some of the basics, it's still pretty sexy! Jade definitely pulls this outfit off and I bet lots of guys would be willing to watch her bend over to do their dusting all day long!